Please also see our Intent-Implementation-Impact statement for Reading and all subjects which can be found under the Curriculum tab in 'Curriculum Statements'
At Hayfield Cross, we aim to instil a love of reading in each and every one of our children. By balancing learning to read alongside building an enjoyment of books and other texts, we believe it builds lifelong, confident and independent readers, and is key for academic success.
Our banding system follows Collins Big Cat, and the children also have access to this online where they are able to read a range of different texts suited to their ability. Within school, children have the opportunity to change their books weekly, where they are encouraged to select their own book. Teachers will regularly assess the children to ensure they are reading at the appropriate level; this is done by assessing children on their fluency and comprehension.
Children should read as much as they can, across a wide range of genres including non-fiction texts, poetry and comics. At home, children are encouraged to read 5 times a week, and must have this signed by an adult. Each week, their reads will be counted and rewarded with hero/house points! Alongside this, there is allocated time for children to share a class book (read to them by their teacher) and time for them to engage in reading texts of their own preference every day.
Within school, we use Complete Comprehension to support their fluency and comprehension with reading. As per the National Curriculum, reading focuses on both word reading and comprehension. By Complete Comprehension, children are able to build on skills required to answer comprehension questions, alongside continuing to support their reading of a variety of texts and foster a love of reading. Complete Comprehension supports the retention and recall of the reading content domains as put forward in the National Curriculum. It therefore enables us to track the type of questions asked and the children's responses to these, which allows for targeted questioning afterwards.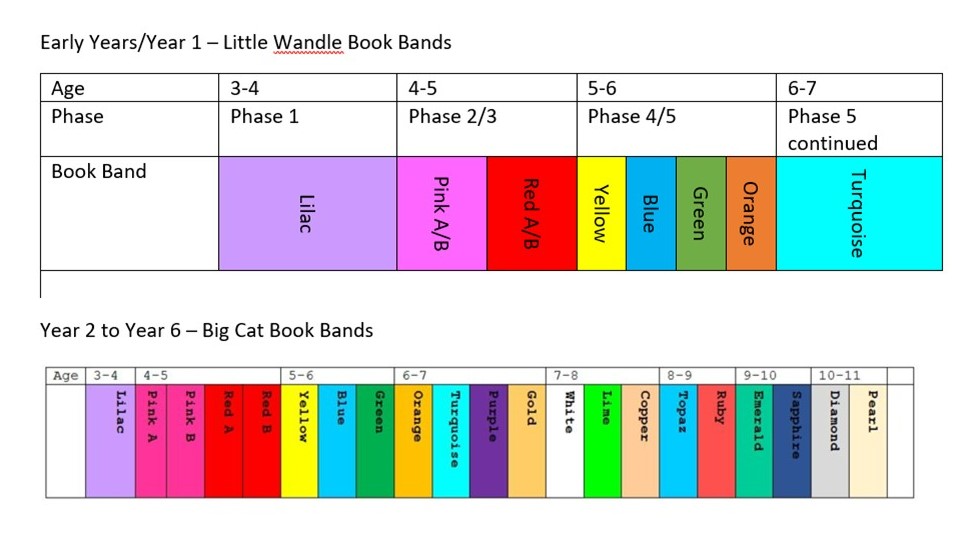 Book Bands
Hayfield Cross has a wide range of books from lots of different providers. Our banding follows the Little Wandle/Collins Big Cat system.
Children in Early Years and Year 1 will be allocated a school reading book, which they have already read during guided reading sessions. This book will focus on developing your child's individual skills and will be an opportunity for children to consolidate the sounds and words they have been learning in phonics that week. It is vital that your child reads this book at least three times per week.
Reading a book at the right level means that: your child should know all the sounds and tricky words in their phonics book; read many of the words by silent blending (in their head); only need to stop and sound out about 5% of the words by the time they bring their book home – but they should be able to do this on their own.
Children in Years 2-6 change their books on a Monday, and are encouraged to choose their own books. Therefore, this means they may choose the same book twice; this is okay, and promotes a love of reading, whilst also improving their comprehension. For a child to move up to the next book band, they will be tested on their fluency and comprehension of reading.
Our readers are also able to access the Big Cat EBooks - there's a handy parents guide for you to download on the right!
When the children have move through all of the book band levels and completed Pearl, they are now a free reader; this means they are able to read books of their own choosing, and will be encouraged towards age appropriate selections by their teacher if needed.
Reading for understanding
In the sidebar, you will find documents that you can download. The two titled question stems contain prompts to help you develop your child as a reader and replicate what we use in school. In class, the children use the icons on these documents to help them remember the different reading content domains and how to answer comprehension questions. When reading with your child, use these question stems to further their reading and develop their comprehension skills.